Stainless Steel 316 Flanges Suppliers, SS 316L Weld Neck Flange, Stainless Steel 316L Nippolet Flanges, ANSI B16.5 SS F316 Ring Type Joint Flanges, Stainless Steel 316L RTJ Flange, SS 316 Lap Joint Flange Supplier in Mumbai, India.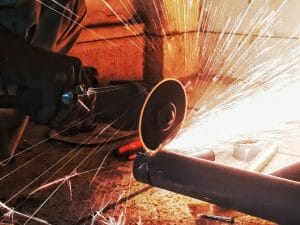 Neeka Tubes is one of the India's largest supplier for SS 316 / 316L Flanges.Our Stainless Steel 316 Slip On Flanges can also be used in the food and pharmaceutical process industries where it is utilised to handle hot organic and fatty acids in an effort to minimise product contamination. These Stainless Steel 316L Threaded Flanges performs well in fresh water service even with high levels of chlorides. In most instances, the corrosion resistance of our Stainless Steel 316 Weld Neck Flanges will be roughly equal in most corrosive environments.
However, in environments that are sufficiently corrosive to cause intergranular corrosion of welds and heat – affected zones, these Stainless Steel UNS S31600 / S31603 Blind Flanges should be used for the reason that of its low carbon content. Our Stainless Steel 316 Socket Weld Flanges can be easily welded and processed by standard shop fabrication practices. Forming working temperatures of 1700 Degree F – 2200 Degree F (927 Degree – 1204 Degree C) are recommended in these Stainless Steel 316L Lap Joint Flanges for most hot working processes.
Our Stainless Steel 316 Ring Joint Type Flanges is quite ductile and forms easily, which is subject to work hardening during deformation and is subject to chip breaking. Cold working operations will increase the strength and hardness of these Stainless Steel 316L Spectacle Blind Flanges and might leave it slightly magnetic
Common Applications for SS 316
Laboratory equipment and benches.
Marine environment applications.
Food preparation equipment (exceptionally in chloride environments)
Coastal area structures and exterior products.
Architectural structures such as panelling, railings and trim.
Effective for boat fittings.
Chemical containers, including for transport.
Excellent for Heat Exchangers.
Threaded fasteners.
Springs
Industrial equipment that deals with corrosive process chemicals used to make products such as inks, textiles, bleaches, photographic chemicals, and rubber.
Main Advantages of SS 316
Superior Resistance to Chloride
Resistance to Corrosive Chemicals
Better Resistance to Cracking and Pitting
 
Neeka Tubes is a suppliers & exporters of SS DIN 1.4435, 1.4436 Socket Weld Flanges, ASTM A182 SS F316 Threaded Flanges, SS 316L Nippo Flanges, ASME SA182 Stainless Steel F316 Industrial Flanges, SS 316L Forged Flanges, 150# ANSI SS 316L Flanges.Our Company have the greatest reputation for being the best leading SS 316 Flanges Suppliers.
Stainless Steel 316 / 316L Pipe Flanges Specifications
Specifications :
ASTM A182 / ASME SA182
Size :
1/2″ (15 NB) to 48″ (1200NB)
Standards :
ANSI/ASME B16.5, B 16.47 Series A & B, B16.48, BS4504, BS 10, EN-1092, DIN, etc.
Class :
150#, 300#, 600#, 900#, 1500#, 2500#, PN6, PN10, PN16, PN25, PN40, PN64 etc.
Standard :
ANSI Flanges, ASME Flanges, BS Flanges, DIN Flanges, EN Flanges, etc.
Form :
Orifice Flanges, Slip on Flanges (SORF), Spectacle Blind Flanges, Forged Flanges, Threaded Flanges, Blind Flanges, Socket weld Flanges, Lap Joint Flanges, Ring Type Joint Flanges, Spacer Ring Flanges, Plate Flanges, Long weld Neck Flanges, Nipo Flange, Nipolet Flanges, Weld neck Flanges (WNRF), Flat Flange
Stainless Steel 316 / 316L Flanges Equivalent Grades
Standard
SS 316
SS 316L
UNS
S31600
S31603
Werkstoff Nr.
1.4401
1.4306 / 1.4404
EN
X5CrNi18-10
X2CrNi18-9 / X2CrNi19-11
BS
316S31
316S11
GOST
08Х18Н10
03Х18Н11
JIS
SUS 316
SUS 316L
AFNOR
Z7CN18‐09
Z3CN18‐10
Stainless Steel 316 / 316L Flanges Chemical Composition
Element
SS 316
SS 316L
Ni
8.0 – 11.0
8.0 – 13.0
C
0.08
0.35
Mn
2.0 max
2.0 max
P
0.045 max
0.045 max
S
0.03 max
0.03 max
Si
1.0 max
1.0 max
Cr
18.0 – 20.0
18.0 – 20.0
SS 316 / 316L Industrial Flanges Mechanical Properties
Element
SS 316
SS 316L
Density
8.0 g/cm3
8.0 g/cm3
Melting Point
1400 °C (2550 °F)
1400 °C (2550 °F)
Tensile Strength
Psi – 75000 , MPa – 515
Psi – 75000 , MPa – 515
Yield Strength (0.2%Offset)
Psi – 30000 , MPa – 205
Psi – 30000 , MPa – 205
Elongation
35 %
35 %
Other Available SS 316 Product Services